Behind the Scenes Look at the Goodthings x None Title Sustainable Pop-Up Shop
Meet the founder of Kayu, Jamie Lim, who has dedicated her life's work to empowering artisan women and promoting sustainability. Kayu is a perfect example of the mission-driven brands we love to feature at Goodthings.
Published on: July 09, 2021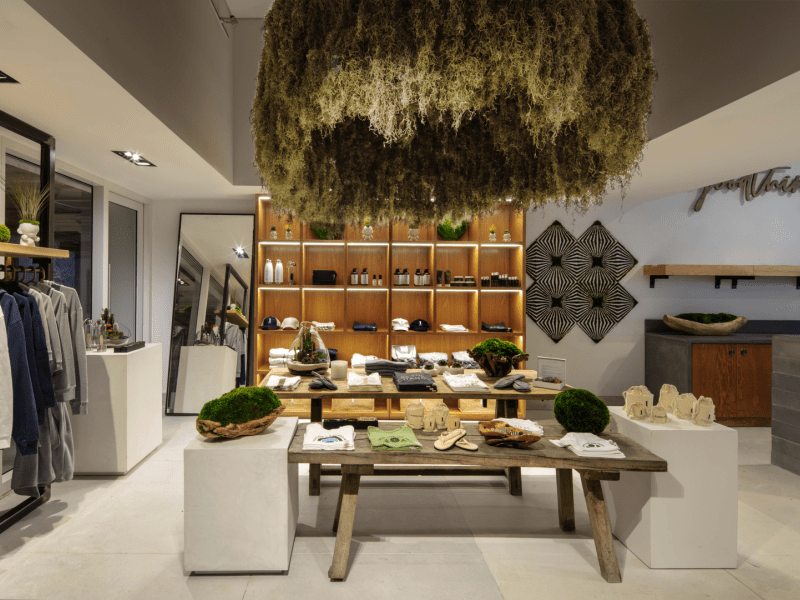 As a platform for change, we're proud to offer products that reflect our values through our intentional, sustainable gift shop: Goodthings. Not only does our shop allow you to bring the comforts of our sustainable sanctuaries home with you — it inspires us to discover and partner with new like-minded, mission-driven brands.
On that note, we're excited to announce that we've partnered with Kate Cervini of None | Title to host a consciously curated pop-up shop (now until August 22) at Goodthings in 1 Hotel West Hollywood. As a fashion industry veteran, Kate is helping us organize and showcase mindfully crafted clothing, footwear, skincare, accessories, and natural remedies from some incredible sustainable brands.
One such brand is Kayu, an ethical accessory line that consciously empowers women, honors their individual artisan crafts, and utilizes sustainable materials and practices. We recently had the pleasure of interviewing the founder of Kayu, Jamie Lim, who empowers artisan women around the world every single day — not only by employing them but by setting an example of the remarkable possibilities that can emerge when you align your passion, values, and work.
 
Meet Jamie Lim, Founder of Sustainable Accessory Line, Kayu

Has your heritage influenced your designs or the way you run your business? If so, how?
I grew up in South East Asia and our bags are made there using techniques that have been passed down through the generations. We work in collaboration with artisans ensuring that each piece contains a piece of their unique cultural heritage. 
Can you tell us about the materials that you use to produce Kayu pieces? Why is it important to you that your pieces be created with natural, organic materials?
We make our pieces from natural materials like straw, vegetable tanned leather and sustainably sourced shell.  We can't avoid consumption but we can do so in a conscious way that minimizes impact to the environment. There are so many materials to choose from, why not choose something that causes less harm to the earth? 
 
What else does Kayu do to minimize environmental impact?
There's a lot of attention on the sustainability of materials - is it made of a petroleum based material, is it bio-degradable, is it vegan? However, we also need to talk about social sustainability. A lot of what we wear is made in vast factories in China and India - the energy used to produce at that scale is intensive and there is a staggering amount of waste produced. We work with small family owned businesses and with women cooperatives. Most of our artisans work from home and eschew the use of machinery. We are also working towards zero waste by upcycling our factory scraps into small accessories like bag charms and scarves.
 
You employ artisan women in the Philippines, Ecuador and Greece , as well as female immigrants in the US - truly empowering women around the world. Why is this such an integral part of the brand and its mission?
As a woman and mother, I know how difficult it is to manage both work and family life. Women are usually the ones responsible for looking after the household and the children. This means that they need a flexible schedule that allows them to work but at the same fulfill their familial obligations. The women we work with weave at home which allows them to look after their family as well as earn a living wage. 
Empowering women is the key to breaking the cycle of poverty and reducing domestic violence. 
What's one piece of advice you'd give other female entrepreneurs or business owners?
The one thing people most regret on their deathbed is not living a life that is true to themselves. When your work or business aligns with your true self that's when you really soar. 
More Stories We'd Think You'd Enjoy
Steering the Future: Join Audi on the Journey Toward All-Electric Mobility
With an ambitious goal of phasing out the production of combustion cars by 2033, pioneering...
Sustainability
That's a Wrap: Our Favorite Sustainable Gifts for the Holiday Season
As the year comes to a close and we reach a time of reflection, we choose to express gratitude for...
Sustainability
A Message on Thanksgiving