1 Hotel San Francisco's Executive Chef, Scott Koranda, Shares Stories About His Culinary Journey and Inspiration
With a culinary background built upon agriculture and community, Scott Koranda brings sustainable, reimagined, ingredient-driven dishes to San Francisco's iconic food scene.
Published on: September 14, 2022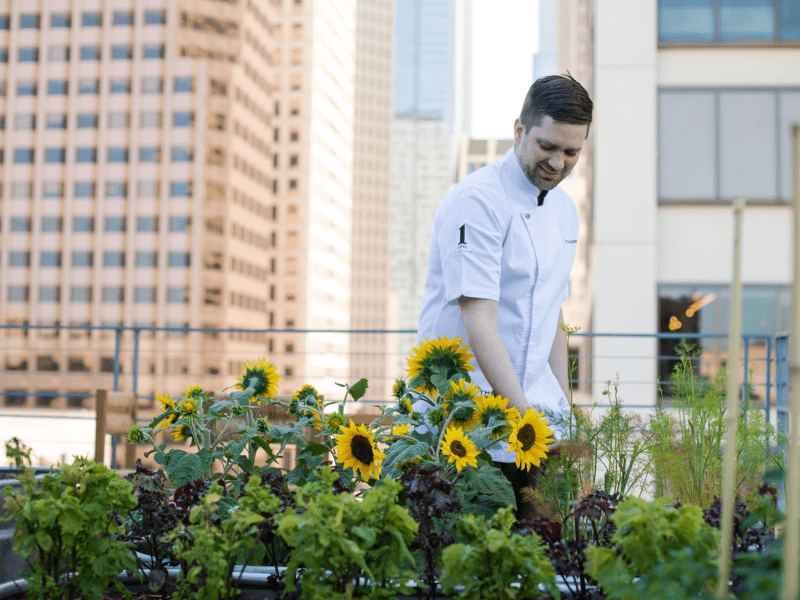 It's no secret that San Francisco is steeped in rich culinary history. Surrounded on all sides by dynamic seas, flourishing fields, and renowned vineyards—fresh, sustainable ingredients are always within reach.
Terrene at 1 Hotel San Francisco embraces this scene with open arms, merging the city's culinary diversity with the 1 Hotels' ethos to put nature first in everything we do. Executive Chef, Scott Koranda, is spearheading the operation.
Growing up in Ames, Iowa, a center of agriculture, Scott channels his roots and delivers a reimagined, market-driven menu to Terrene, boasting fresh ingredients sourced within 100 miles of the verdant lounge.
We sat down for a candid conversation with Scott to discover some of the ways that his background and passion for sustainable, nourishing ingredients have shaped Terrene's menu.
Interview with Chef Scott Koranda, Executive Chef at Terrene
How did your culinary career start? Why did you want to become a Chef?
 At 13 years old, I was involved in food and agriculture in Ames, Iowa. My first few jobs involved detasseling corn in the fields, tending to greenhouses, and assisting in the produce department of a natural food co-op. When I reached 16 years old, I had my first job working in the kitchen of a BBQ restaurant in Ames as a dishwasher.
I wouldn't say my culinary journey began until years later, but during this time, I was introduced to a lot of unique ingredients I had never seen before. This piqued my curiosity and planted the seed that ultimately led me to cooking.
Can you tell us a little about Terrene and what inspired the menu?
 I wanted the menu at Terrene to feel communal and approachable; something you could share with friends over drinks while still feeling elevated and surprising. We have access to so many amazing ingredients in the Bay Area, and I want to really showcase them.
How do you incorporate locally-sourced ingredients into the dishes at Terrene?
I incorporate locally-sourced ingredients into the menu as much as I can. Every Saturday morning, I visit the Farmer's Market across the street. As the seasons change, the produce varies. It may be the mint today and the walnuts next week, but the market is always incorporated somewhere in each dish.
How is sustainability incorporated into the menu? Can you talk more about some of the zero-waste initiatives? 
We source ingredients locally and regionally as much as possible. Not only is it important to support local farmers and growers from a community standpoint—but it makes a difference in allowing us to reduce our carbon footprint. Sourcing our ingredients within 100 miles and diverting waste as much as possible allows us to conserve energy and fuel, reduce our reliance on single-use plastics, and utilize more types of sustainable packaging. Since we know our purveyors, we have much more freedom to use reusable crates since we can actually return them to our vendors.
What is your favorite ingredient to cook with?
Eggs are very fun to cook for a chef. There are endless ways to prepare them. They're simple yet challenging, and there's always room to improve your technique.
On a personal level, what is your favorite dish on the menu?
The carrots come from one of our local farm partners, Star Route, and it includes whipped tahini, feta, and chili honey. It's garnished with toasted pistachios and our garden herbs—grown right here on our rooftop garden. It's one of the first dishes that solidified what the Terrene menu would look like, and it's one that clicked and made sense to me as an anchor for the restaurant concept.
Can you share a recipe that our guests can recreate at home?
Our Carrot Harissa Dip is incredibly flavorful, adaptable, and adjustable. It's a very simple base recipe that can be tweaked as needed to suit your own tastes. You can follow it as is for a classic, delicious dip—or you can enhance it by adding whatever you're in the mood for.
Carrot Harissa Dip
Makes 2 cups
Ingredients:
4 medium-sized carrots (500g), scrubbed and roughly chopped into 1" pieces
3 medium shallots (100g), roughly chopped
2 limes, juiced (35g)
1 tsp (2g) salt
½ tsp (1.5g) cumin
1tsp (2.5g) Aleppo pepper (plus more for garnish, optional)
3 medium clove (6g) garlic, grated 
1 ½ Tb (10g) olive oil (plus more for roasting)
Black sesame seeds – optional, for garnish
Chervil leaves – optional, for garnish
Directions:
Toss carrot pieces in olive oil; cover them and roast in the oven until just cooked through and a fork passes through the center easily (325° for approximately 20-25 minutes)
While carrots roast, prepare all other ingredients
When carrots are cooked, immediately puree in a blender while hot with lime juice, salt, cumin, Aleppo, and garlic. With blender running, drizzle in olive oil until all has been incorporated
Allow the puree to cool, garnish with black sesame seeds, a sprinkle of Aleppo, chervil leaves, and a dash of olive oil. Serve with your favorite bread, pita, crackers, or vegetables
More Stories We'd Think You'd Enjoy
Designed by Nature
Brushing Up on Mayfair's Iconic Art History With Captivating Tours Led by Art Expert, Loyse de Pury
As we embark on monthly art tours through the creative soul of Mayfair, get to know the colorful...
Connecting to the Heart of Hispanic Heritage Month: Stories of Passion & Pride From Our Latinx Team Members
We're spotlighting the stories of our incredible Latinx staff members, discovering what this month...