Sustainable Sips: Master the Art of Zero-Waste Cocktails
Our Corporate Director of Beverage, Steven Minor, shares his secrets for crafting the perfect sustainable cocktail, using each ingredient to its fullest potential.
Published on: April 08, 2023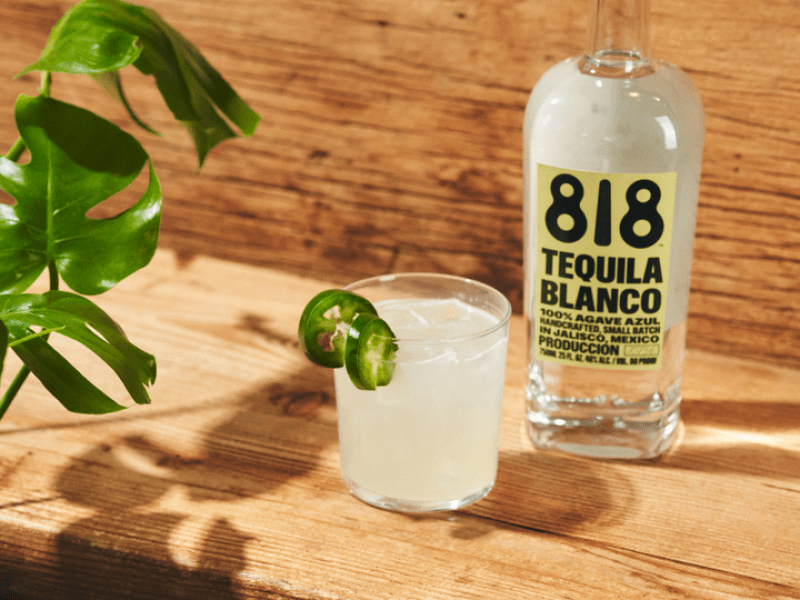 Sustainability is at the center of all our operations at 1 Hotels. As we celebrate Earth Month, we reflect on our impact and ability to create processes that protect our planet, from biophilic design to climate-conscious food and beverage offerings. 

It's estimated that half a pound of food is wasted per plate across restaurants in the US. Not only do sustainable cocktails introduce a unique opportunity to reduce waste behind the bar, but they also provide a creative medium to repurpose ingredients that might otherwise be scrapped in the kitchen—a small but critical action that has the potential to drastically reduce waste when done consciously and consistently.

We take pride in our commitment to sustainability in every sip, and we're excited to launch a new series, Mindful Mixology Masterclass, that guides our guests to craft delicious sustainable cocktails. For the launch of the series we partnered with 818 Tequila, an innovative brand that shares our dedication to honoring the planet and its people every step of the way—from utilizing renewable energy to packaging in recycled bottles. Our mindful mixology masterclass highlights this ethos, encouraging you to slow down, savor each ingredient, and use it to its full potential.

Fusing the innovation of 818 Tequila with the expertise of Steven Minor, our Corporate Director of Beverage, we've developed recipes that prove just how delicious zero-waste practices can be. From a spicy margarita that uses the entirety of the lime to an espresso martini handcrafted with spent espresso syrup, we hope to inspire you to embrace sustainability as you toast to Earth Month—whether you're joining us in the mindful mixology masterclass or creating your own cocktails at home.

For some extra inspiration, we invited Steven to speak with us about 1 Hotels' sustainable bar program, his creative approach, and his secrets for crafting the perfect zero-waste cocktail.
 
WHAT IS A ZERO-WASTE COCKTAIL, AND HOW IS IT MORE SUSTAINABLE THAN YOUR AVERAGE COCKTAIL?
 
A zero-waste cocktail is made with ingredients that are used to their fullest potential, leaving little to no waste behind. Each ingredient is scrutinized at every level, and multiple techniques are applied with this in mind. A great example is lime, which can be found behind all bars. In our zero-waste margarita, we take the limes and use the zest in a rich oleo saccharum as a base sweetener. We then juice the limes and add the lime juice into our cocktail. With the leftover lime half moons, we can also make a citrus "stock" and reincorporate that back into the regular lime juice or dehydrate them and use them as a garnish.

IN YOUR ROLE AS BEVERAGE DIRECTOR FOR 1 HOTELS, YOU OFTEN CRAFT NEW SUSTAINABLE COCKTAILS. WHAT INSPIRES YOUR CREATIONS? ARE THERE ANY INGREDIENTS THAT ARE YOUR GO-TO WHEN WORKING ON A NEW RECIPE?
 
I always consider the venue, its concept, and the city I'm in. I get inspired by seasonal and diverse ingredients from different cultures, particularly Japanese, Mexican, and Peruvian flavors. Some of my favorite ingredients would be hibiscus, coconut water, and anything umami to push a savory profile.

Another one of my secrets is a touch of saline solution or a pinch of salt. Salt works in cocktails similarly to how it works with food. It can accentuate flavors, round them out, and add balance.

Lime and lemon juice can be one of the biggest offenders in a sustainable bar program when they aren't used in their entirety. One great substitution I use and love is citric and malic acid solutions, which allow you to present drinks that are clean and clear, yet still offer the citrus kick that is needed to balance a drink.
 
CAN YOU TELL US MORE ABOUT THE SUSTAINABLE BEVERAGE PROGRAMS AND OFFERINGS AT 1 HOTELS?
 
No matter which 1 Hotels property or venue you're at, we strive to always have two to four sustainable cocktails available on the menu. Behind the bar, we work with zero-waste in mind in all the areas we can. For example, we prioritize using dehydrated garnishes, which are shelf stable and don't go bad or begin oxidizing in 24 hours like regular citrus and pineapple. We have incorporated the use of acid solutions in our cocktails to reduce our dependence on citrus fruits, which in turn lowers our carbon footprint. Many people may not know that ice is also a common offender in a sustainable bar program. We pre-batch some of our booze-forward cocktails with dilution and keep them in the freezer, which allows us to avoid wasting unnecessary ice.

When it comes to collaborating with external partners, we choose to work with brands that share the same ethos as us and are committed to sustainability. One example is 818 Tequila, which is a Certified B CorporationTM. With our wine program, we've set a goal of sourcing a minimum of 70% of our wines by the glass from sustainable, organic, and biodynamic winemakers.
 
MAKING A ZERO-WASTE COCKTAIL AT HOME CAN SEEM OVERWHELMING OR TIME-CONSUMING. CAN YOU SHARE ANY TIPS, TRICKS, OR EASY-TO-MAKE RECIPES?
 
The first logical step in making a difference is taking a look at what base spirit you're using in your cocktail. Choose a spirit from a sustainable brand. Many of our partners actively work to minimize their waste, contribute to their communities, and reduce their impact on the planet. One of my favorite recipes is a spicy margarita, with a low-waste jalapeño tincture. The tincture has a long shelf life and will help avoid waste, and we're going to show guests how to make that in the Mindful Mixology cocktail class with 818 Tequila throughout April! Below is the recipe to try out at home.

Sustainable Spicy Margarita
1.5 oz 818 Tequila Blanco
0.5 oz FAIR Kumquat
1 oz lime oleo saccharum
3 oz dashes jalapeño tincture

Jalapeño Tincture 
30 grams discarded jalapeño tops & ends
750 ml bottle 151-proof Everclear grain alcohol
Tools: gloves, knife, cutting board, 1 quart mason jar, strainer, funnel, gram scale
 
Directions:
Reserve jalapeño tops and ends. Put gloves on and weigh out 30 grams of jalapeños.
Add jalapeños to mason jar and submerge with Everclear. Allow to macerate for 48 hours. 
Fine strain & funnel tincture into a bitters dasher bottle. Ensure to use the back of a large spoon to squeeze out all the liquid from the jalapeño pieces. 
Label and date.
 
IN CELEBRATION OF EARTH MONTH, WE'RE LAUNCHING A MINDFUL MIXOLOGY MASTERCLASS ACROSS ALL HOTELS. CAN YOU TELL US ABOUT THE CLASS, THE COCKTAILS, AND WHAT MAKES THEM ZERO-WASTE?
 
Yes, we are very excited to be rolling this out in collaboration with 818 Tequila and will be partnering with other like-minded spirits brands quarterly. We will be showing guests how to create sustainable cocktails by utilizing ingredients around the house, either giving them a second life or using them whole in their entirety. We will be focusing on two cocktails—a spicy margarita with an oleo saccharum (lime zest syrup) and a second life jalapeño tincture, and a sustainable espresso martini using a spent espresso syrup.
 
THE CLASS IS IN PARTNERSHIP WITH 818 TEQUILA. HOW DO THEY PRACTICE SUSTAINABILITY?
 
We're excited to be partnering with 818 Tequila. As a company, they have a heavy focus on sustainability from production to recyclable packaging, to giving back. They are a Certified B CorpTM, a member of 1% for the Planet, and their distillery runs on biomass and solar - their biomass source uses the waste and byproducts of their production process. They are also partnered with s.a.c.r.e.d. Agave, where tequila byproducts are used to make bricks and contribute to local infrastructure projects in Jalisco, Oaxaca, and Zapotitlán de Vadillo.
Learn more about our Mindful Mixology Masterclasses and reserve your spot here. If you can't join us, we hope you'll try implementing some of these practices at home. Cheers to Earth Month!
More Stories We'd Think You'd Enjoy
Steering the Future: Join Audi on the Journey Toward All-Electric Mobility
With an ambitious goal of phasing out the production of combustion cars by 2033, pioneering...
Sustainability
That's a Wrap: Our Favorite Sustainable Gifts for the Holiday Season
As the year comes to a close and we reach a time of reflection, we choose to express gratitude for...
Sustainability
A Message on Thanksgiving