1 Guide: 10 Things To Do In NYC This Winter
The holiday season is in full swing in New York City. While days may be shorter and the air is a bit cooler, there's still plenty of #daylife to experience.
Published on: December 08, 2015
​
The holiday season is in full swing in New York City. While days may be shorter and the air is a bit cooler, there's still plenty of #daylife to experience. Whether you're visiting for the festivities or have been living here for years, there's always an endless amount of things to do, see & eat around the city. We've narrowed down your to-do list this season with our new 1 Guide series.
Here are some things to checkout:
1. Visit the now fully lit Rockefeller Tree, less than 10 blocks from 1 Hotel Central Park. While we prefer visiting trees still in the ground, this is a spectacular site and a true icon of holiday season in NYC.
2. Take your family for a ride on a carousel like no other at the newly opened, luminescent SeaGlass Carousel, in Battery Park City. Each fish is designed to evoke the bioluminescence found deep in sea.
3. Go ice skating at the iconic Wollman Rink in Central Park. There's nothing quite like gliding on the ice in the middle of New York City's largest green space. Open now till the end of the season in 2016.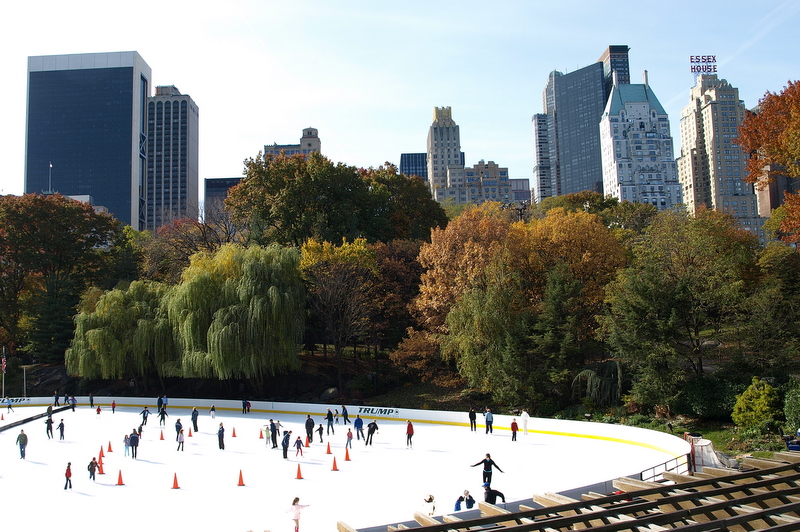 4. Head on down to Battery Park and check out Museum of Feelings (now until December 15th) – the exterior reacts to social media and real-time data to reflect New York's ever-changing mood in color!
5. Get your holiday shopping done at the Union Square Holiday Market (now until December 24th) featuring many local artisans and vendors for small leather goods, artisanal chocolates, handmade jewelry, winter accessories & more.
6. Smell & try different flavorings at the newly opened Museum of Food and Drinks in Williamsburg, Brooklyn. Current exhibition – "Flavor: Making It and Faking It" (now until Feb 28th).
7. Warm up with a cup of joe at Toms Roasting Co. in Nolita. Every cup of coffee = clean water for one person for one day.
8. Pamper yourself with an all natural manicure & pedicure at Hortus Nailworks in Lower East Side. All products used are handcrafted, using food grade and organic ingredients. Our favorite: Hortus Signature.
9. Encapsulate yourself in the oldest symphony orchestra at the New York Philharmonic. (Multiple concerts from December 15 – 19).
10. Treat yourself to a decadent hot chocolate from Jacque Torres Chocolate, served fresh, piping hot, thick and full of melted chocolate. Multiple locations found throughout the city, or stop by 30 Rockefeller Plaza.  
Make 1 Hotel Central Park your home-base during the winter season with up to 20% off your stay, a bottle of sustainable, organic wine to warm up with after a day out, and late check-out so you can cross all of the above off your 'Things to See and Do' list.
​
More Stories We'd Think You'd Enjoy
Steering the Future: Join Audi on the Journey Toward All-Electric Mobility
With an ambitious goal of phasing out the production of combustion cars by 2033, pioneering...
Sustainability
That's a Wrap: Our Favorite Sustainable Gifts for the Holiday Season
As the year comes to a close and we reach a time of reflection, we choose to express gratitude for...
Sustainability
A Message on Thanksgiving